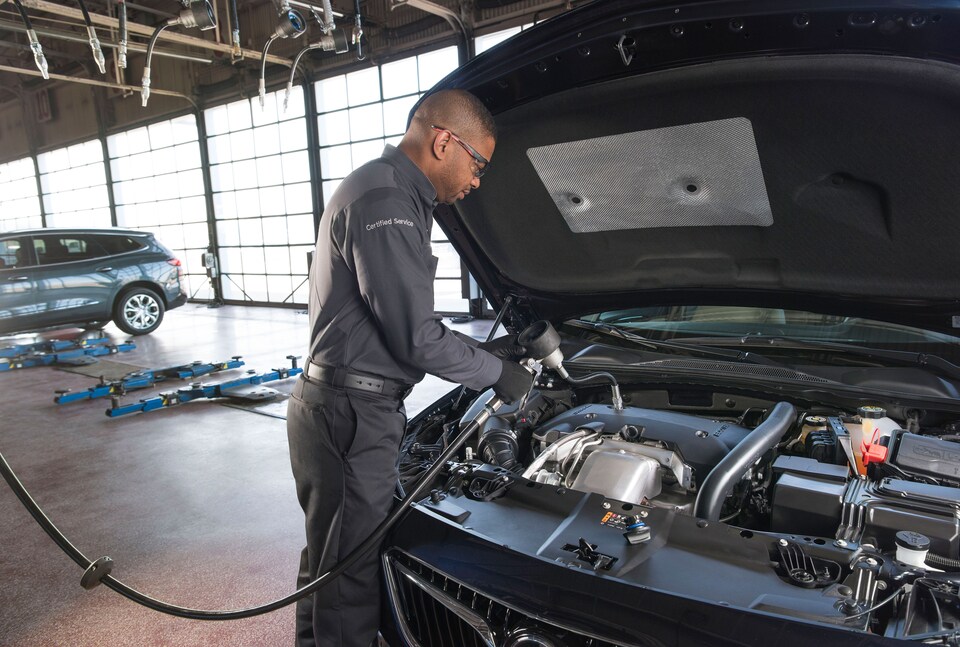 ?

At Bill Marsh Buick GMC, we offer the convenience of our Bill Marsh Certified Service Express oil-change center in Traverse City, MI.
And with your express oil change comes other benefits. These seek to instill a thorough sense of freshness across your model.
So, there's no need for making a planned-for service date when an oil change calls. Simply stop by and we'll take care of all the rest.
The Bill Marsh Certified Service Express Oil Change near Elk Rapids
As part of a dealership group specializing in several brands, Bill Marsh Automotive takes great pride in the professionalism offered our valued clientele. This extends to a comprehensive oil change marked by convenience and thoroughness.
Bear in mind, not many quick-lube shops may say same about the oil-change services they provide.
Given our in-house brands spanning Buick, Chrysler, Dodge, Ford, GMC, Hyundai, Jeep, Ram, we must exhibit cohesive and all-encompassing expertise. This seen across maintenance and repairs, and your express oil change.
A Complete Oil Change Performed Onsite, While You Wait
Look below at those defining attributes to your Bill Marsh Certified Service Express oil change near Glen Arbor:
Old oil will be drained, with fresh engine oil installed as with a new oil filter.
Fluid levels across systems of steering, brakes, transmission and wipers will be inspected and topped off accordingly.
Chassis fittings will be greased for continued safe travel.
Tire pressure will be adjusted when necessary. You may also request to have tires rotated from well-to-well.
Exterior lights will be examined for integrity and light emitted.
Before return to you, windows will be cleaned and interior vacuumed.
When taken in-total, the Bill Marsh Certified Service Express oil change is the perfect method to enhance performance, enable safety and extend the longevity of your preferred model.
What if I have other concerns regarding my Jeep Wrangler?
It's always best practice to immediately remedy any issue you may suspect of your vehicle.
This may be experienced when your Ram pickup veers to either side when traveling at high speeds past Manton, MI.
Or there's some shaking in the rear of your Jeep Compass that seems to come from wheel wells.
And when applying the brakes to your Hyundai Santa Fe, a grinding sensation is too annoying to let linger.
Comprehensive Attention Accorded Your Prized Vehicle
Our factory-trained technicians must be well-versed in all aspects of the brands we serve near Mancelona, MI.
From wheel-alignment corrections for improved, proper steering and tire balancing to brake systems inspected and parts replaced, we handle it all.
And our OEM (Original Equipment Manufacturer) parts' supply covers all those brands we've been lucky to offer Gaylord, MI.
We remain fully stocked, tool equipped and professionally staffed for any maintenance need or required repair.
The Ease of Scheduling Service Online
Along with our no-appointment, Bill Marsh Certified Service Express oil change, more intricate vehicle needs may be scheduled online.
This allows our technicians to be ready for your repair or maintenance procedure. Anything that's required will be handled expeditiously with very little waiting experienced on your part.
As well, service and parts' discounts may apply to your procedure at Bill Marsh Automotive.
Bill Marsh Automotive – Express Oil Changes, Maintenance, Repairs All in One Location Near Traverse City, MI
Stop by and enjoy the convenience and benefit of an oil change performed while you wait.
In this, it doesn't take much to ensure performance and safety are upheld to the highest degree.