New Buick Envision for Sale in Traverse City, MI
1Dealer Discount applied to everyone.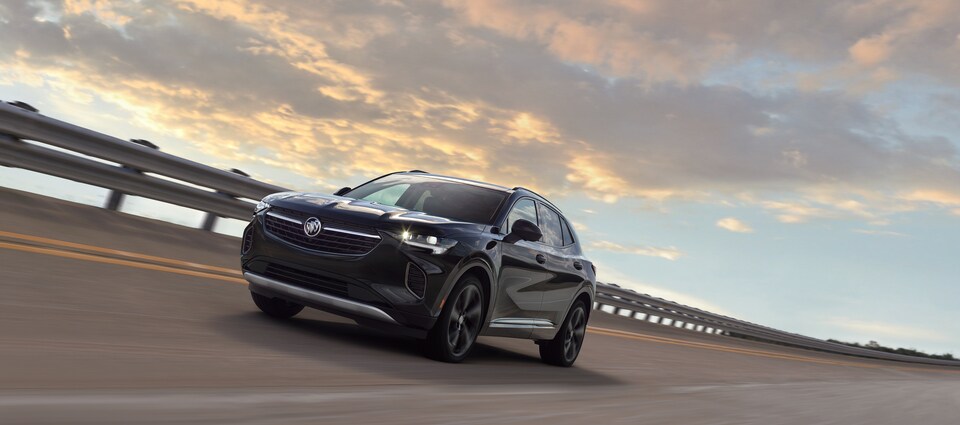 Experience Optimum Luxury in the 2022 Buick Envision from Bill Marsh Motors in Traverse City
In manufacturing the 2022 Buick Envision, Buick competes with renowned luxury brands and outclasses most competing models. You will enjoy an upscale interior in the new Envision, with numerous luxury features that enhance your comfort and convenience. In addition, the 2022 Buick Envision guarantees buyers an exciting performance and responsive drive courtesy of its turbocharged four-cylinder engine. Impressively, the new model now features alloy pedal covers in the Sport Touring Package, alongside headrests and floor mats bearing the ST logo.
Trims
The 2022 Buick Envision is available in three trim levels depending on your budget and preference. The preferred trim level offers basic yet pleasant features on the interior and exterior as the entry-level trim. The Essence trim has heated front seats, a power liftgate, 18-inch alloy wheels, and an exciting infotainment system. Choose the top-notch Avenir trim with a heated rear seat, navigation, a surround-view camera, and 20-inch alloy wheels if you prefer more luxury.
Exterior
Whether or not you are a fan of crossover SUVs, one look at the 2022 Buick Envision will have you reconsidering your options. It features distinctive exterior curves and exceptional details that bring out the new model's eye-catching appeal. Besides its attractive grille, the 2022 Envision captivates buyers with its well-designed headlights that blend perfectly with the LED running lights. Depending on the trim you choose, you have a choice between 18 and 20-inch alloys that further enhance the Envision's beauty.
Performance
The 2022 Buick Envision is only available in a single-engine option that delivers 228 horsepower and 258 pound-feet of torque from its 2.0-liter turbocharged inline-four setup. The engine pairs with a nine-speed automatic transmission to send power either to the front-wheel-drive or all-wheel-drive powertrain for efficient power delivery. As a result of its quick-shifting transmission, driving the Buick Envision is nothing short of enjoyable, with its responsive engine requiring only 7.3 seconds to get to 60mph. Regardless of the terrain, the 2022 Buick Envision ensures a comfortable driving experience courtesy of its suspension. For a more enhanced driving experience, the 2022 Envision offers various driving modes ranging from Touring to Sport. Therefore, driving on snowy roads is effortless, especially with the all-wheel-drive option. Since the new model is ideal for urban driving, it has a decent towing capacity of up to 1,500 pounds.
Fuel Economy
You will enjoy excellent fuel economy when driving the 2022 Buick Envision despite the powertrain you choose. Front-wheel drive returns 24 mpg on city drives and 31 mpg when driving on the highway. On the other hand, the all-wheel-drive option will also impress you with its 22mpg on city drives and 29 mpg on the highway. Consequently, the 2022 Envision is an economical SUV suitable for buyers looking to take road trips across Elk Rapids and Glen Arbor with their families.
Interior
Like most Buick models, the 2022 Buick Envision offers a dazzling interior with plenty of features that enhance your comfort. Notable interior features that vary according to trims include heated and ventilated seats, leather upholstery, and a massaging driver's seat. Across all trim levels, the new Envision offers plenty of legroom on the front and second-row seats. In addition, the model has an adequate storage space that can be adjusted by folding the rear seats in case you need to carry bulky cargo.
Infotainment
With an 8.0-inch and 10.2-inch touchscreen display depending on the trim you choose, the 2022 Buick Envision supports Apple CarPlay and Android Auto connectivity. In addition, it provides a 4G LTE Wi-Fi hotspot, SiriusXM Satellite Radio, and an active noise-cancellation system to keep your drive across Manton, MI enjoyable.
Visit Bill Marsh Motors in Traverse City Today!
With the 2022 Buick Envision, you will enjoy enhanced safety, remarkable performance, and a cozy interior. Whether you're in Mancelona, MI or Gaylord, MI, consider getting the 2022 Buick Envision if you are shopping for a stylish and luxurious crossover SUV. Contact Bill Marsh Motors in Traverse City to learn more.
How Can We Help?